It's Fall Y'all! Great weather Sat-Sun-Mon, spend family time on the farm.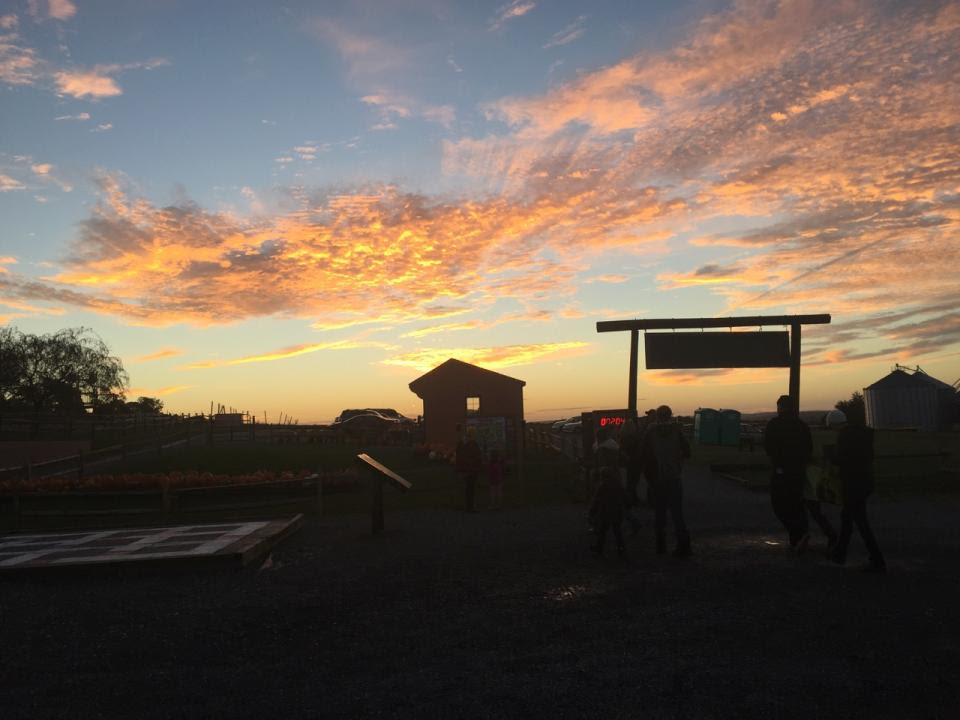 Beautiful sunset over the Pumpkin Shed.

Life on the Farm: "You just never know."

What a crazy time of year. On the farm when it's harvest time, you still have all the other work to do and you have to harvest all the crops. During this time, it's akin to being "in the Red Zone" 24/7. You just never know what's going to happen.

This past week alone, we had hurricane threat, a long-time church friend pass away, clarinet lessons, (I'm writing this before we leave for..) soccer practice, social media posts to share, CSA boxes to pack, construction to supervise, supplies to pick-up, a family to feed, kids' homework to check – you just never know what's going to happen.

So what do you do when you don't know what's going to happen?

Step 1. Prepare as best you can. We knew rain was coming. We knew we wouldn't be selling hundreds of baskets of apples and hundreds of tickets, so we enacted our plan to reduce hours and staff, update our communications with our guests and make wise decisions based on staff and guest safety. Sure, we weren't busy in the rain, but we minimized the impact on our staff and guests.

Step 2. Stay positive. In farming, you live by the weather which happens to be completely out of your control. We know rain is a bummer for everyone, but we'll be open next weekend and the sunshine will be back. The sun will (actually) come out tomorrow!

Step 3. Keep your eyes on the prize. At Maize Quest, we don't have a Mission Statement, we have a mantra: "Make People Happy." That's it. That's the mission, the filter for choices, the guiding light for our business and our staff. When a situation comes up, we evaluate the response with "What will make people happy?" We often say, "It doesn't matter how you feel, it's what you do that matters." We are going to take care of each and everyone of you, our farm guests, no matter what.

So here we are, a week after the big rain event. The apples are still on the trees, the corn maze looks great, the fields are dried out, the cool weather is great for hot chocolate, the pumpkins are freshly washed.

We can't possibly know what next weekend will bring, BUT this weekend looks great with sunny weather Sat-Sun-Mon.

Are you ready for a break?
Get lost with your family on the farm.
Get lost from the hassles.
Get lost from the over-scheduled schedules.
Get lost from the hustle and bustle to breathe clean air, walk the stalks, eat from the trees and sample treats in the market.

Purposefully take the time, choose to use your time to unplug from the world and escape together, just for one day this weekend.

You just never know what next week will bring.

See you soon on the farm,
Hugh